MORTALITY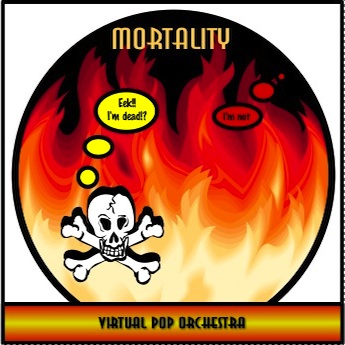 This project was completed and uploaded on February 17th/18th 2012. The first test disk was burned (using AIFs) on March 8th. My small run of CDs was burned the following day. This project has now been archived. Much later it was discovered that LastFM appeared to have removed the files, so it was then re-uploaded to this server 13-14th May 2017.

This project, like

Beach sounds

, came about really almost by accident. I should also add, just to be clear about this, that the lyrics for it were mostly written the year before the lyrics for

Abstracts

, so where they touch on my personal life, it is mostly relating to an earlier time, when the relationship with Oona was still running, but underneath the surface of what still appeared good there was a gradual polarisation which together with transport and financial aspects was making the relationship increasingly untenable. I say this in order to explain the context within which most of these lyrics were written.

I don't know why it was, but early in 2009 I started writing lyrics about life and how an awareness of the finite nature of it might inpact on how it was in the present. It may have been a remark made in passing in a book about Beatles lyrics, but it's just as likely that I was getting older, my hair had thinned a bit, Oona's mother had passed on, even Oona's cat had passed on. There were plenty of reasons to think about mortality without reading a book. You could almost say that it was a musical mid life crisis.

By the time of the Rouen holiday in June I was writing furiously. This was partly because there wasn't anything to do in the evening. There wasn't a DVD player, and very little English telly. There didn't seem to be anything Oona and I wanted to do together, except discuss where we were going to go the next day and so forth, so I wrote and wrote and wrote, and Oona I think read. Some of the lyrics I wrote were for

Mortality

, which I think by that time I had realised that I was writing, and some were for

That's odd

, which at some point I also deliberately started trying to write. The writing of

Mortality

went on until late that year, and was followed by the writing and recording of

Abstracts

.

After I had finished the

Abstracts

project, which in some ways was almost a tuning up exercise as I was starting off with new software, I then began orchestrating and recording

Mortality

, although the exact shape of it wasn't quite there at that point. I had too many lyrics for the end of it and was a little light elsewhere. I may have been conscious of this then and that may be why I wrote a handful more.

Among the lyrics that were written for

Mortality

but that ended up on the cutting room floor were:

The grand design, Tell me why

,

Thoughts of home

(all June 2009),

The last word

(October 2009) and

The company song

(November 2009). By March 2010 I had started writing

Abstracts

. By somewhere around late November 2010 I appear to have finished writing lyrics for

Abstracts

and went back to writing other material, some of which then got included on

Mortality

.

Apart from one, I tremendously enjoyed recording

Mortality

, really hugely enjoyed it, and you can hear that I think in some of the vocals (

Sin at speed

for instance). I also felt very good about how I was sounding. I felt that the vocals I was recording for

Mortality

were the best I'd ever done. As usual the vocal recordings got hacked around quite a lot and often ended up as composites.

As usual following the end of the orchestrating and recording sessions (which produced the rough cuts some of which were uploaded to Number One Music) I then spent months editing what I had. This can be a very wearisome process, but I'm told that it does very noticeably improve the quality of the finished recordings. At some point something told me that enough was enough and after five rounds of edits I uploaded the final versions to Last FM and it was time to start writing it up and winding up the project.

As of this writing it feels very strange actually getting to the end of a project that I suppose has been part of my life now for three years. It almost feels unreal.

There are a small number of CDs of this project if anyone who knows me cares to ask for one.

---
1. Life (instrumental) - Orchestrated: 29th August - 18th September 2011. Edited: 1st, 13th January 2012; 6th February 2012.
This was a rather grand attempt to both musically sum up life and write an orchestral sounding opening. I've had a hankering for a while to open a CD so that it sounds like the beginning of a symphony or something. This was one attempt at that, although I couldn't resist mixing in other elements. There are obvious Beethoven influences such as the ostentatious use of the timpani.

2. Climate changes -

Lyric written 5th December 2009. Orchestrated 14th-22nd April 2011. Vocals recorded 22nd April 2011 (Good Friday). Edited 30th October 2011, 16th January 2012, 10th February 2012.


As you'll notice this lyric was written the month after the so-called "climategate" scandal at the Climate Research Unit at the University of East Anglia. More than a thousand emails and around two thousand other documents were reportedly obtained from a server used by the CRU on or before 17th November 2009. There was a lot of reporting of this and especially of the contents of some of the emails at around the time I wrote this lyric. Some people apparently found the timing suspicious and suspected that the intention was to disrupt a forthcoming climate change conference. In writing the lyric, it wasn't really my intention to make any allegations, but purely to express frustration about how this whole scandal had muddied the water and given ammunition to those who sought to argue that there was in fact no climate change taking place i.e. that it was all a meda myth. The song was originally going to be called "Dig those crazy climate change email blues" until (with some reluctance) I realised that the multiple meaning "Climate changes" was a much better title. Reportedly after the scandal broke there were no less than eight subsequent investigations of the climategate material. The main concern was that the science of climate change could have been compromised. The eventual verdict was I understand (some while after this lyric had been written) that although there had been failings, the science as such was not undermined by them. It has been suggested that the wording of some of the emails when taken in isolation and out of context made the material sound a lot more damning than it actually was. At least one investigation consequent on climategate wasn't apparently finally wound up until August 2011. A police investigation into how the documents were originally taken from the CRU server was reportedly still in progress in November 2011.

3. Now -

Lyric written 5th-6th March 2011. Orchestrated: 1st-13th August 2011 [away on Douro holiday 1-8 August]. Vocals recorded: 13th August 2011. Edited: 30th December 2011, 19th January 2012.


This was one of the three newly written lyrics to be included, dating from around the time the Mortality project started, at which point I had been single i.e. split up from Oona for around six months. I think I was still unsure about whether I wanted another relationship. At the time of the split I had been convinced that there would be another relationship at some point, but after a time I had second thoughts, and by the time I was writing this lyric I seem to have been ambivalent and seriously thinking about whether I had concluded relationships entirely and would now live alone.

4. Lifetime - Lyric written: 29th May 2011. Orchestrated: 7th - 12th July 2011. Vocals recorded: 16th July 2011. Edited: 10th-11th December 2011; 20th January 2012; 6th, 12th February 2012.
This was another of the new lyrics. It was triggered (as arguably this whole project was) by a description of John Lennon's Beatle lyric

In my life

, although it had a long gestation. One book remarked that Lennon's lyric, superficially a love song, was actually about intimations of mortality - that is, about Lennon's intimations of his own mortality. Unfortunately Lennon was not able to stick to his train of thought and wandered off into a love song. However my lyric did stick to the same train of thought.

5. Sin at speed -

Lyric written: 15th June 2009 [R]. Orchestrated: 15th - 20th May 2011. Vocals recorded: 22nd May 2011. Edited: 7th November 2011, 21st January 2012.


This one seems to owe some sort of debt to another of Lennon's lyrics

Norwegian wood

, to which it nods at one point. Lennon's lyric mused on lifestyle choices and was rumoured to be a description of his infidelity to his then wife Cynthia. My lyric appears to be an argument that I would have been better off if I had been less moralistic and proper and more liberally minded. At the time it was written remember that I was still with Oona, and in fact staying in a cottage with her on holiday, but the relationship as it turned out was moving towards its close due to what seems to have been a gradual polarisation between us. It's very possible that this lyric expresses some frustration at that, and possibly a subconscious sensing that it was eventually going to end, which it did a little over a year later.

6. The hell of it (instrumental) -

Orchestrated: 23rd-29th October 2011. Edited: 11th January 2012, 21st January 2012.


This was the last one to be written and there was something of an end of term feeling about it. Having done the donkey work on putting the project together I felt like goofing off a bit just to see what came. It took some while to get this one right, and it was only when I hit on the idea of adding loop vocals to it that it sounded convincing. It seemed to be a pointer to the anticipated future project

That's odd

, and suggested that any further material wouldn't fit into

Mortality

, it would be the wrong sort of music, which is why I stopped writing at this point.

7. Steam (instrumental) -

Original location recording made at the Bluebell Line railway, 20th August 2011. Orchestrated: 21st-25th August 2011. Edited: 31st December 2011.


This one was almost accidental. I happened to be on the Bluebell Line with my camera, and as the railway sounds interested me I recorded around 36 minutes of it. When I got back out of curiosity I started fiddling around with effects just to see what came. After that it seemed a natural step to put orchestration on top of it.

8. Memories are gold -

Lyric written: 10 June 2009 [R]. Orchestrated: 25th-29th April 2011. (25th was Easter Monday.) Vocals recorded: 29th April 2011 (the day of the Royal Wedding if you're interested, which you're not). Edited: 7th February 2012.


This is another one that had a very long gestation. It was triggered by a recollection of a remark made by somebody I used to know, who said that she didn't keep a photograph album because someone else's just looked like pictures of them getting older. I think by that time I'd probably realised that there was going to be some sort of project revolving around life and death, and this seemed like the right sort of sentiment for a song on those lines.

9. Follow the crowd (instrumental) -

Orchestrated: 19th-25th September 2011. Edited: 3rd January 2012, 23rd January 2012.


This involved distorted guitars chasing a piano around so I called it

Follow the crowd

. The piano was actually going to come out again. It was playing the chord sequence and I used it to make sure the rest of it held together. The idea was to remove it again when I was done, which I almost always did - it was a line of working if you like. However I got used to it being there, and I felt it was a nice contrast, so it stayed in. You could say this was what hours and hours of listening to Lindsey Buckingham songs finally led to.

10. Time passing backwards -

Lyric written: 14th June 2009 [R], with some reworking while it was being orchestrated. Orchestrated: 2nd-5th July 2011. Vocals recorded: 9th July 2011. Edited: 8th December 2011; 23rd January 2012; 7th, 13th February 2012.


This was the first song I wrote that was based on an explicitly written chord sequence. I did the chords first, which is the way you're supposed to do it, and then based everything else around them. You can't hear the chords in the finished song as they're muted. (I wondered if writing it this way would make it sound any different, but at least to me it didn't particularly.) It's a very middle aged song really. The lyric appears to be about a middle aged man who has been dumped for a younger model. It wasn't based on anybody in particular. I particularly liked "how I wish I was more trim" which I felt only someone middle aged could have written.

11. I guess I changed (my mind) -

Lyric written 24th July 2009. Orchestrated 22nd-26th May 2011 (some changes to vocal part only on 5th June 2011). Vocals recorded: 5th June 2011. Edited: change to guitar part to avoid obvious clash with Steam, 26th Aug 2011. Then 17th November 2011, 24th January 2012.


This was a musing about life really... how you want something, or want to do something, or think you do, and then you don't... and why it is that you don't when you did before, and whether you ever really know.

12. Catholic shame

-

Lyric written: 14th June 2009 [R]. Orchestrated: 9th-15th May 2011. Vocals recorded: 15th May 2011. Edited: 6th November 2011; 25th January 2012; 10th, 13th February 2012.


I think this one was a long time coming. I've had views on religion since I was about 15, that is for over thirty years, and they haven't shifted a lot during that time. I hadn't had a lot to do with Catholicism, although I do remember my father saying that the Roman Catholic church had a lot to answer for. I was aware of some of its teachings, such as papal infalibility, or the ban on priests having relationships. I think I felt vaguely uneasy about all of this, but it wasn't really until Oona that I had any actual exposure to it on a personal level. I wouldn't want to overstate it, and I was always careful not to come between her and her faith, but I think it is fair to say that the influence it had on her was part of the gradual polarisation and increasing emotional distance between us towards the end. This song isn't about that especially, but it does explain something of why by then I had definite issues with Catholicism as a system of beliefs.

13. Time out (instrumental) -

Orchestrated: 6-22 October 2011. Edited: 5th, 25th January 2012.


I wrote this following the apparently favourable reception for the rough cut of

Steam

which had been uploaded to Number One Music.

Time out

was the last but one composition for

Mortality

and like the last

The hell of it

, had a feeling of end of term experimentation about it. The weird sounding instrument is actually a piano with an awful lot of tremelo on it. I'd been hearing this sort of sound in my head for years, even decades, so it was a sort of "Eureka that's it!" moment when I managed to make the sound I'd heard.

14. Killing time -

Lyric written: 7th June 2009, although with an extensive rewrite on 17th June 2011. Orchestrated: 17th - 25th June 2011. Vocals recorded: 26th June 2011. Edited: 26th November 2011; 25th January 2012; 13th February 2012.


I had in mind for this a sort of Robbie Williams type character, but older. He's been everywhere and done everything, and money is really no object, and he doesn't have to work. He should be having a wonderful time, but he feels that it's all meaningless, it doesn't feel to him as if any of it means anything; it's more as if he's just waiting to die, and he doesn't understand why.

15. Intimations of mortality

-

Lyric written: 31st May 2009. Orchestrated: 28th May - 3rd June 2011. Vocals recorded: 12th June 2011. Edited: 20th November 2011; 26th January 2012; 13th February 2012.
This was largely my idea of what an Indian mystic might say, as I felt that at some point a collection of thoughts about mortality ought to contain something vaguely resembling meaning.. Some of it is just linking of opposites to create the impression of depth and cleverness (such as, "what we were, we never were"). Some of it on the other hand does represent genuine thinking about life and mortality (such as, "think from what you think you know"). There is even some that is autobiographical (such as, "...God got in the way (let's not go there today)"). The title came from a comment about the real meaning of the Beatle song

In my life

.

16. Ghosts -

Lyric written: 23rd January 2011. Orchestrated: 27th June - 1 July 2011. Vocals recorded: 2nd July 2011




Edited: 28th, 29th November 2011; 4th December 2011; 28th, 30th January 2012; 10th, 13th February 2012.


I do remember this one. I'd been to Dickens World at Chatham. There were some female staff there, young, I didn't know how young except that it was too young, and I noticed them. (Remember this was after the relationship with Oona finished.) As by then I thought maybe I wouldn't have any more relationships or get involved again, I wasn't sure in that case what the point was of feeling things when I saw women, it seemed pointless. I felt almost guilty about it. I came out, went back to the car and sat there scribbling in a notebook about what I felt and why I felt it. I remember feeling very good about the song while I was recording the backing vocal, but for a long time it still didn't entirely sound right, and it was only late orchestration changes that finally produced a sound I was happy with.

17. Old -

Lyric written: 13th June 2009 [R]. Orchestrated 29th April - 2nd May 2011. Vocals recorded: 2nd May 2011. Edited: 4th-5th November 2011.


This is another very middle-aged song, reeking of awareness of advancing years. It has a three section structure - I'm tempted to say I tend to get bored writing the same thing all the way through so sometimes I just abruptly change it in the middle and do something else. There are signs of country and western flavour to some of it, as there are elsewhere in the collection (such as on

The hell of it

); this may be the influence of

The notorious Bird brothers

which also had a subtle but distinct country influence. I think the lyric must have started from an idle musing that if I died and went to the pearly gates I'd probably get told I wouldn't be allowed in because I was too old.

18. Say goodbye -

Lyric written: 2nd March 2009. Orchestrated: 5th-16th June 2011. Vocals recorded: 18th June 2011




Edited: 20th November 2011; 31st January 2012; 11th, 13th February 2012.


I like this one a lot. I remember wiping a tear from my eye as I wrote the end of the lyric ("And though you'll make somebody cry, just close your eyes and say goodbye"). I suspect that it was largely a reference to my father who almost did close his eyes and say goodbye, though he probably didn't realise at the time that this was what he was doing... although he was eerily prescient towards the end... so you never know. Musically it features an Afghanistan sand rabab (in the outro for example) which I was nuts about - I just

love

that sound. I've always liked doing the exotic stuff.

19. The sailor -

Lyric written: 30th December 2009 - that is, the end of the year I went to Rouen. Orchestrated: 21st-22nd May 2011. Vocals recorded: 28th May 2011. Edited: 7th-8th, 14th, 19th November 2011; 31st January 2012; 11th February 2012.


I remember feeling very good about this one as I was recording it. I felt I'd really struck oil, that this was it. It's about a character who starts to think seriously about what he wants from life, probably for the first time, and because he isn't used to thinking this way it comes to him very haltingly. Only gradually does he realise that what he thought he wanted isn't what he actually wants, and to get a glimmer of understanding of what that actually is. I was going to add to the orchestration and throw everything but the kitchen sink at it as usual, but then I thought, no, this needs to be kept clean and simple, it would be a mistake to complicate it.

20. Farewell -

Lyric written: 1st March 2009. Orchestrated: 15th - 19th July 2011. Vocals recorded: 23rd July 2011. Edited: 11th December 2011; 1st, 11th February 2012.


When it came to how to wrap up Mortality lyrically I had an embarassment of riches - there were several lyrics around the same kind of area and it seemed to me obvious that they couldn't all go on. This particular one owed its origins to a film. I had been watching a film called

Honkey tonk man

in which a terminally ill country singer has one last musical hurrah. For some reason I was touched by it and wrote this lyric loosely based on the character. If you think of the sort of gruff characters Clint Eastwood generally plays, you can see how the lyric fits with that sort of character. Somewhat to my surprise I became very emotional while recording it and in one take struggled to get through it. I did go on to record much calmer versions, but when I realised that I was trying to act to put emotion back in, I thought, this is silly, what am I doing? The vocal I used was a composite containing some of the emotional take and some of other takes to try and make the result emotional, but not too emotional. This was the only one of the 16 songs that I can't say I enjoyed recording.

21. Baldalay -

Lyric written: 1st June 2009. Orchestrated: 22nd - 29th July 2011. Vocals recorded: 29th July 2011. Edited: 19th, 23rd December 2011; 2nd, 13th February 2012.


This was penciled in for

That's odd

, but as

Mortality

neared the end of orchestration and recording I had a problem. There was a lot of sombre material and the end of it threatened to be wretchedly miserable. I realised that there had to be something lighter at the end, and this was the only lyric I had that fitted the bill, so I used it. I also remember what led to it. I was trying to think of something exotic that might inspire an exotic piece of music, and for some reason Mandalay came to mind. The original Mandalay was of course the last royal capital of Burma (I say of course in order to sound terribly clever, instead of admitting that I have just googled it). However I must have remembered it from the famous opening line of the novel Rebecca (by Daphne du Maurier), which went "Last night I dreamt I went to Mandalay again" in which Mandalay [sometimes quoted as Manderley] was a country house. I thought gloomily, "I suppose if I didn't have any hair I'd go to Baldalay." And that was enough. Sometimes all you need is one moment of inspiration and the rest of it just comes. I had to research bald jokes in order to finish it, but that's by the by.

22. Angel (instrumental following removal of someone else's lyric) -

Original lyric was written by Joseph Lefebre, 6 June 2011, but this has now been removed from the track. Composed/orchestrated by Michael R: 10th - 12th June 2011. Vocal recorded & edited by Michael R: 12 June 2011 (later removed). Re-orchestrated & adapted as instrumental 13th-18th August 2011. What remains was entirely written by me. Edited 22nd November 2011.


This started off as a commercial project. I was contacted by the producer of a minor record label asking if I could write the music for a lyric and do a demo for her. I didn't care for the lyric to be honest, I thought it was too derivative and it appeared to have technical issues and some phraseology that I personally didn't care for. Nevertheless I did her a demo in three days flat. Later I heard that the artist hadn't done for it, despite kind words about the piano (I was only allowed one instrument in the demo). Just for the heck of it I took the vocal off and reworked it as an instrumental. I suppose it was partly a sort of "this is what you missed" type gesture. It would have been quite easy to have written something else. I tried various instruments for the lead instrument that replaced the lead vocal. For a time it was acoustic guitar. In the end, fairly late on in the proceedings, I settled on a choir. Feedback on this one from Number One Music has been good.

23. Death (instrumental) -

Orchestrated: 26 September - 5th October 2011. Edited: 4th January 2012, 4th February 2012.


This was another ambitious piece. I wanted

Mortality

to start with

Life

and finish with

Death

as that seemed very apt. I wanted to musically describe death, without using lyrics. Partly what I wrote was loosely based on my father's death, and what struck me about it looking back was how ordinary it was. Ordinary life went on around him, and for a time he was part of it. There were sombre moments, moments that looked or felt like crises, but we all adjusted to them and things carried on again. Although I suppose the actual end is by definition always sudden, it seemed like a moot point at the time as the difference between him breathing and not breathing was marginal by then. The actual person, the personality I had known, was long gone. I had originally intended Mortality to convey death as an abrupt full stop followed by nothing, but it was too bleak and I couldn't do it. If you listen to the music you can hear the person getting ill, being ill for a time and dying. After this he vanishes into the mist. This may be read as having spiritual aspects, but I prefer to think of it as the ultimate unknown and unknowable. I wouldn't say that my beliefs about it have changed, but confronting it this directly (even if only artistically) is difficult. You must have your own beliefs on the subject, and this way I haven't disturbed them - you can carry on thinking whatever you wish on the subject and perhaps seeing that in what you hear here.

The five lyrics labelled [R] were written during the Rouen (Normandy) holiday from 10th-20th June 2009. Another eight were written the same year. The other three were written during 2011.

The cover is in Print Shop format. Below is a link to a zip file of the back cover and a front insert.
The full 12 page lyric booklet will appear only with copies of the CD made by me.
cover